Garden is one such essential aspect of the house which never turns dull as time passes by. Redesigning your outer space or lawn is pretty hectic but may completely transform the aesthetic look of the house. Whether you are renovating your existing garden area, decorating the new one or just filling the empty yards, make sure you pay utmost attention to each detail. The Internet is the best source to find the best garden design for your house. Plan appropriately and design each prospect creatively.
Gardens can be made more beautiful by adding beautiful pergolas, patios, and other seating areas. It does not only add a modern touch to your house but creates a wonderful space to enjoy with your near ones. You equally need to focus on the water systems, pathways, flowering beds and many more to create an intrinsic garden design.
Few ways to transform your garden design
Mentioned below are a few types of garden design that you can include to create an amazing garden. Little transformations might completely change the looks of your house.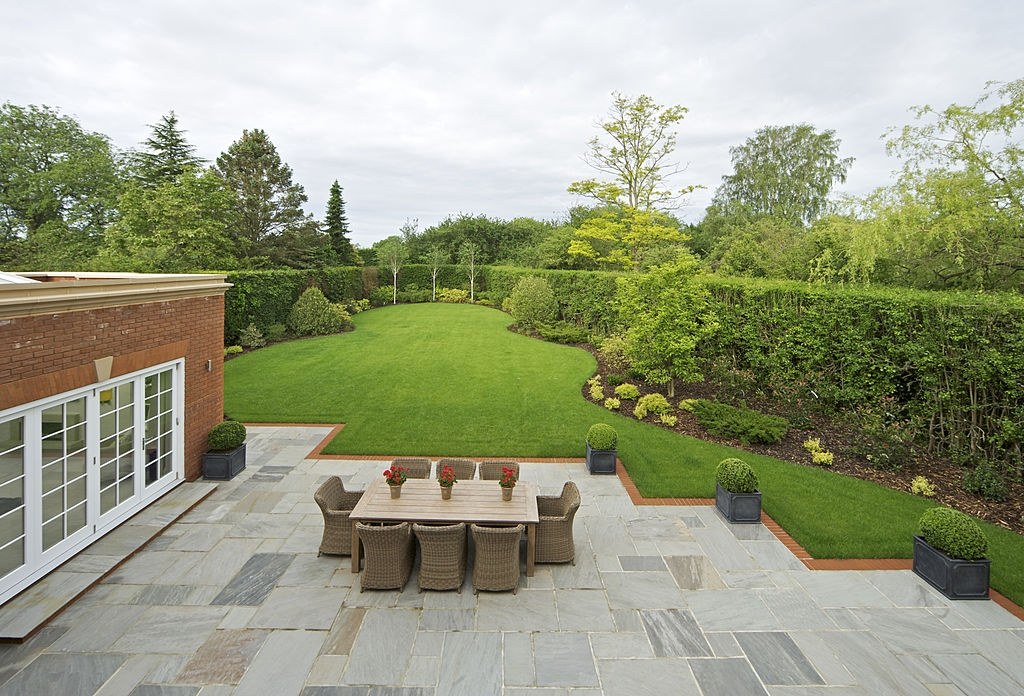 Take a look at a few of them:
#1. Lush green garden including wooden pergola: If there is a patio area in your garden, surround it with lush green plants and flowering plants on either side. The patio area when covered with wooden pergola creates a stunning look. You only need to choose the right flowers and plants that look amazing and require minimal maintenance.
#2. Rose beds along the pathways leading to the house: People are quite concerned about the pathways and they try to make it natural-appearing while adding stones to it. Pathways surrounded with beautiful flowers look highly attractive. Rose plants and other wildflowers when sweeps over the stoned pathway create a country-like atmosphere. Such a garden design looks amazing and stunning.
#3. Small pond amidst the garden: Including a small pond in the middle of the pond looks exotic. No matter whether your garden is small or big, a small water structure like ponds when surrounded with bold flowers like daffodils defines the landscape.
#4. Flowers as per the seasons: To experience the amazing colors of all seasons, planting seasoned flowers would be awesome. When you are choosing flower plants, make sure it stands unique all year round. Focus on such flowers that bloom during the particular season.
#5. Traditional fences to create a  country atmosphere: Boundary walls play a major role in beautifying any garden design. It should look amazing if you want to transform the visual elements. Wooden fences can be used to create that country look of the garden. Choose coordinating colors so that it amalgamates best with the house and garden.
#6. Add rock sculptures: A simple garden can be turned into a stunning one while adding creative sculptures to it. If rock containers or sculptures are scattered hither and thither, it creates a natural look. Varieties of flowering plants, blooming flowers, and the beautiful sculptures provide amazing texture to your garden design.
#7. Stony areas with varieties of flora: Include a set of stone trellises around the raised platform in your garden. Along with this, add beautiful floral plants in the containers. Pots of tulip of different colors provide a charming look to the entire display.
To get an amazing garden design, you need to work on it quite creatively. Keep it arranged rather making it messy. Keep on removing the weeds and bushes to retain its look throughout the season. Work smartly and make your garden look ultra-modern. Don't invest a high amount to get that featured landscape. Plan concisely and work as per the setup.
Tags: garden design