The hiring of an office cleaning service for your company helps to maintain the cleanliness and hygiene of your workspace. Also, it helps to effectively improve the health conditions of the employees who are devoting hours in the office. Office cleaning on a bulk scale requires more manpower and machines to add to the cleaning process. Along with that, when cleaning is done, depositing the dirt and debris is also an important task.
A Clean work environment enhances employee productivity
This again helps to increase the productivity of employees. But all the services are not going to have a similar impact. It becomes very important for you to select the best office cleaning service provider for relishing all the above-mentioned benefits. The companies clean everything right from the floor tiles, to walls, cubicles, office partitions, garden, kitchen and every other part of the office. Along with that, they also have their steaming and vacuum solutions that sanitize the entire office space.
So, in the below-mentioned section, you will get to know about some of the most important things to consider in any of the office cleaning services you hire.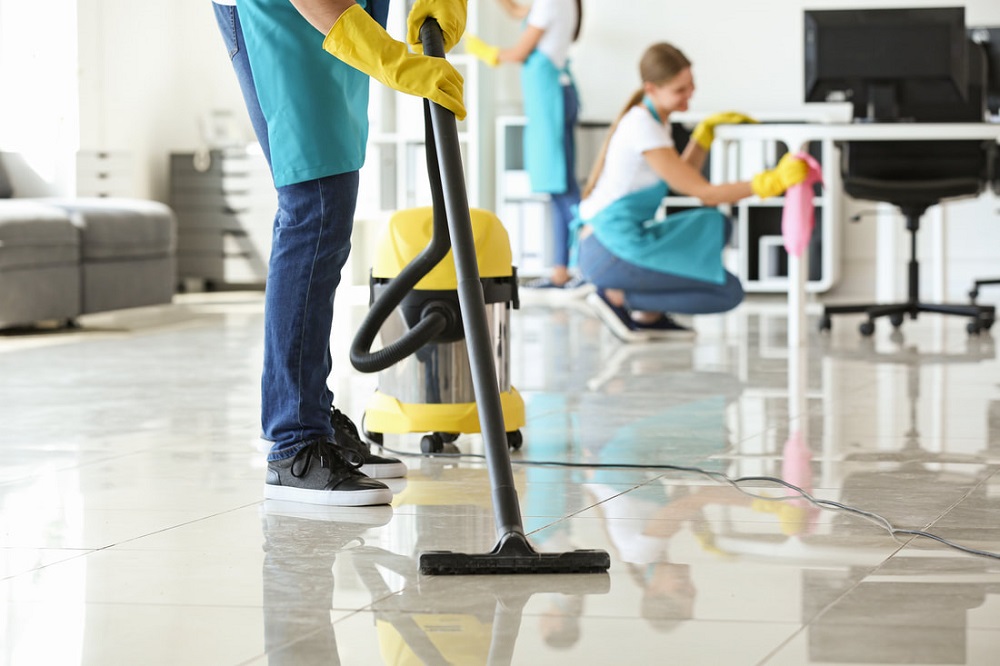 Characteristics of good office cleaning services
#1. Expertise: The office cleaning service provider you are choosing should have experience with commercial customers. Selecting any random cleaning service will not serve the purpose.
This means that they should possess the training, skills, and supplies with the help of which they can work with commercial spaces. Another important thing to ensure is that the company you are selecting possesses expertise in effectively dealing with real businesses in the past.
#2. Consistency: This is another important factor that you should look at in any office cleaning service provider. They should be consistent in providing the service i.e. at least once a week. You can call the company in a month or else, you can also hire them on a half-yearly maintenance contract basis.
#3. Flexibility: Your cleaning service provider should be flexible to work according to the schedule of your team.
Therefore, you should opt for a team that can work according to your schedule i.e. they should be flexible.
#4. Affordability: Considerations of the budget is a crucial factor at the time you hire any sort of service for your business.
You should select a company that effectively fits your budget. Although you should avoid the options that are cheaper than the others as in that case, the quality can be compromised.
#5. Wide range of services: Quick cleaning of the facility is required every few weeks. This involves disinfecting the floors, doors, and windows washing.
But, before you choose to hire a company, you should make a list of all the services you need. After that, you should ensure that the company you are selecting offers all those services.
#6. Safety training: Safety is a crucial factor in almost every industry. This is applicable even in the case of cleaning. Before you choose to hire a cleaning service, you should make sure that the team has received workplace safety training.
#7. Insurance and licenses: Whichever company you select should be licensed to operate in your community or state. Along with that, they should necessarily have liability insurance which will cover any issues that may arise in your facility.
#8. High employee standards: As they will be on your premises regularly and so, it is advisable to perform thorough background checks. They will ensure their reliability and trustworthiness.
Tags: Office Cleaning